1967 Kalamazoo KB-1 (SG style)
Model: 1967 Kalamazoo KB
Scale: 30 1/2"
Body: Masonite body. 16" long, 13" wide, 1 1/8" thick. Overall length 43"
Neck: Maple bolt-on neck with adjustable truss rod, rosewood fingerboard, 20 frets. Width at nut 1 3/4"
Weight: 3.76 kg
Gibson redesigned the Kalamazoo KB bass and KG guitars in late 1966 to the increasingly popular SG body style. The headstock shape was also slightly rounded off, but all hardware/components are unchanged. Functionally they are exactly the same, and the SG shape seems to have been more popular. Compare this to the earlier Mustang-style KB bass.
These are great basses, often overlooked, except by vintage guitar collectors. True they don't have a highly polished hardwood body of a 'real' Gibson but they do have much of the tone, and a lot of the looks. The power of the Gibson EB humbucker is still there, and the neck is very comfortable. You feel like you are playing a Gibson EB-O of the same era. Gibson quality construction, and components make for a very playable bass.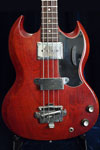 Have a listen to the KB bass soundclips on this site, and compare with a soundclips of a 1966 EB-O.
The basses were shipped in moderate numbers in 1967; Glacier White instruments made up less than a quarter of that years total (see Kalamazoo KB bass shipping stats). This bass is one of 501 white KB basses shipped that year.
The Kalamazoo KB bass has just one pickup - a very powerful
Gibson bass humbucker
at the neck position. This has the characteristic fat tone of the 1960s Gibson EB bass series.
Another Gibson part used on this bass is the wrap-around
bar bridge
, again, as used on the Gibson EB basses
The chrome plated
hand rest
is yet another feature of vintage Gibson bass guitars
Kalamazoo KB-1 bass controls; one volume and one tone control
KB bass headstock detail, with Kalamazoo logo
The logo itself is etched into the wood
These machine heads were used on Gibson EB-O, Melody Maker and occasionally EB-3 basses in the mid-late 1960s
The neckplate is plain, 3" x 1 3/4"
The neck/fretboard were of Gibsons usual quality on these basses. The truss rod is the same as any Gibson, adjustable at the headstock end of the neck, requiring a 5/16" hex spanner to adjust.
It is interesting to note the internal body cavity contain impressions for four pots and a switch (aswell as the humbucker).
Got an opinion on the contents of this page? Disagree with something written above? Please
comment